Grand Junction Colorado's Premier Food Truck
Alarado Biscuit Company opened its "window" for service in March of 2019 as The Buttered Biscuit. The idea behind the Alarado Biscuit Company was to offer a new and different breakfast option. Not your typical food truck, the Alarado Biscuit Company creates a unique experience.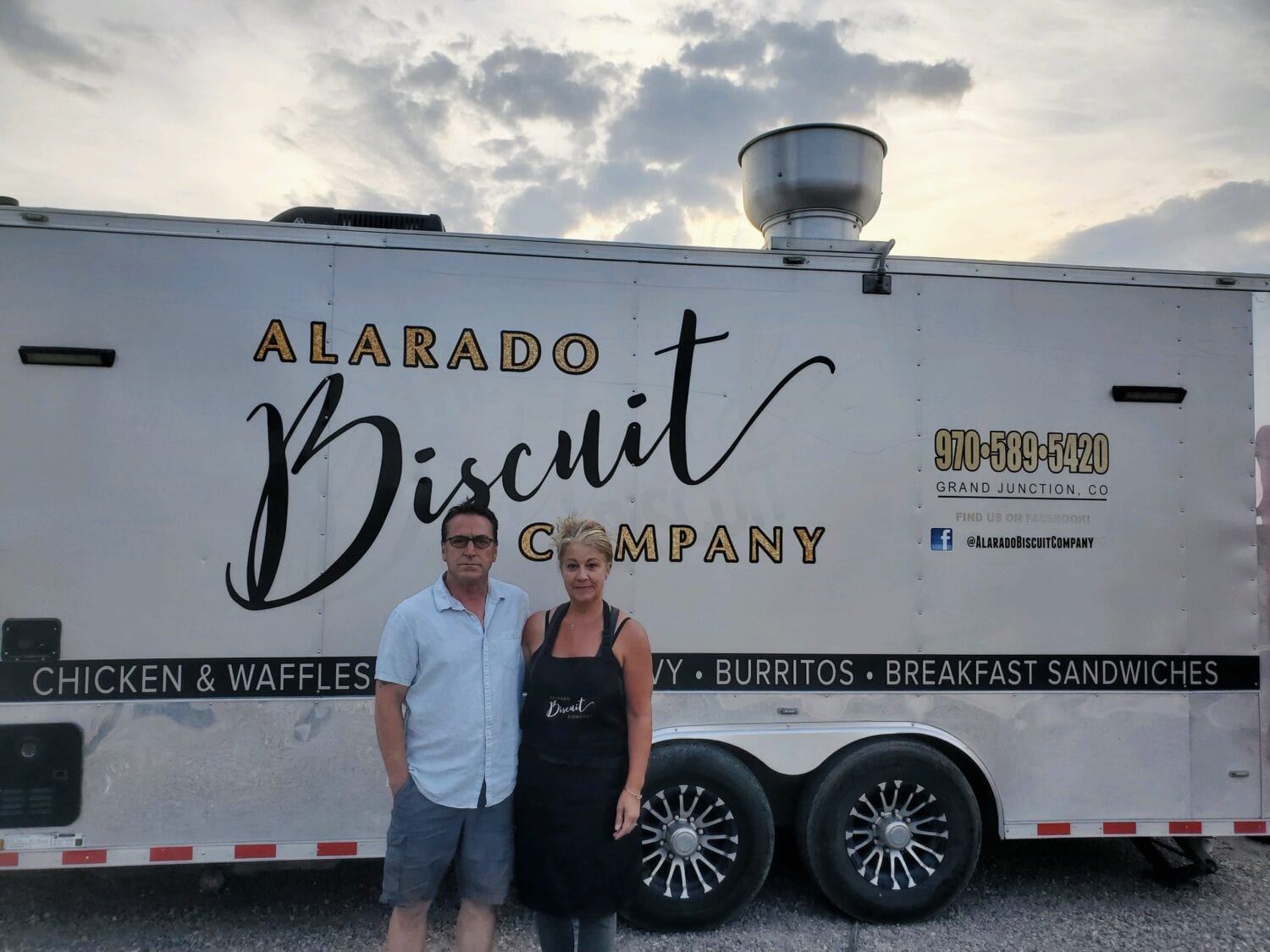 Owners, Brian and Charlene Thomas
What Our Customers are Saying
"Great food truck! Amazing breakfast burritos with bacon and green chili. The chicken and waffles is also really good. Always friendly and reasonably priced. Fast service."
R&S J
"The breakfast burritos are the bomb! So delicious"
Dusty A
"This place is awesome! Had the smothered chicken and biscuits. It was phenomenal. The gravy was perfect, chicken was cooked perfectly, not overdone. Biscuits were flaky & delicious. Customer service was the star, though. Very polite, helpful, and gracious! We'll be back over and over again!"
Rob R
"Amazing chicken and biscuits. You must try this place"
Eric P
"Amazing customer service and delicious food! So glad I saw it driving by- worth the stop!"
KeeleyShea J
"Fantastic food and people! Loved my smothered breakfast bowl Can you just park in front of my house?"
Megan A
"Best breakfast sandwich place in Grand Junction! My husband and I love going to Buttered Biscuit for their honey butter chicken and biscuit sandwich."
Amy J
Our Goal
Our goal is to provide a relaxed environment, with quality food at a reasonable price and service second to none.
Our Vision
The vision of Brian and Charlene Thomas, the Alarado Biscuit Company was a long time coming. Brian has always had a love of cooking. Whether it was his first job as a cook at Bonanza, or cooking in one of the many hunting camps he ran across the country, he is always close to the kitchen. Along with the cooking, the importance of customer service was never lost on Brian.
When he's not running the day to day operations of the Alarado Biscuit Company, you can probably find him in one of 3 places: a high stakes poker tournament, on the golf course or in a hunting camp.
Charlene, well the place couldn't run without her. The 1984 graduate of Central High school is the managing partner of the Alarado Biscuit Company, and takes care of all things financial. Charlene came home from work one day and Brian said, "guess what, I ordered a food trailer."
Like Brian, when Charlene's not working, which isn't often, she likes to play a little poker herself. Ask the 1600 players she outlasted to take down a tournament a few years back.
The duo also enjoys camping, fishing and yes the grandkids…they get priority.